Prescott Corral of Westerners Receives 2015 "Heritage Keeper" Award, Designation
Prescott Western Heritage Foundation recognized the Prescott Corral of Westerners in 2015 with its "Heritage Keeper" award and designation for the Corral's contributions to the preservation of local history, its ongoing contributions to the heritage of western art, and its continuing presentations of history and heritage through its dinners, published articles in the Prescott Daily Courier's "Days Past" Sunday feature, and publication of the Territorial Times magazine.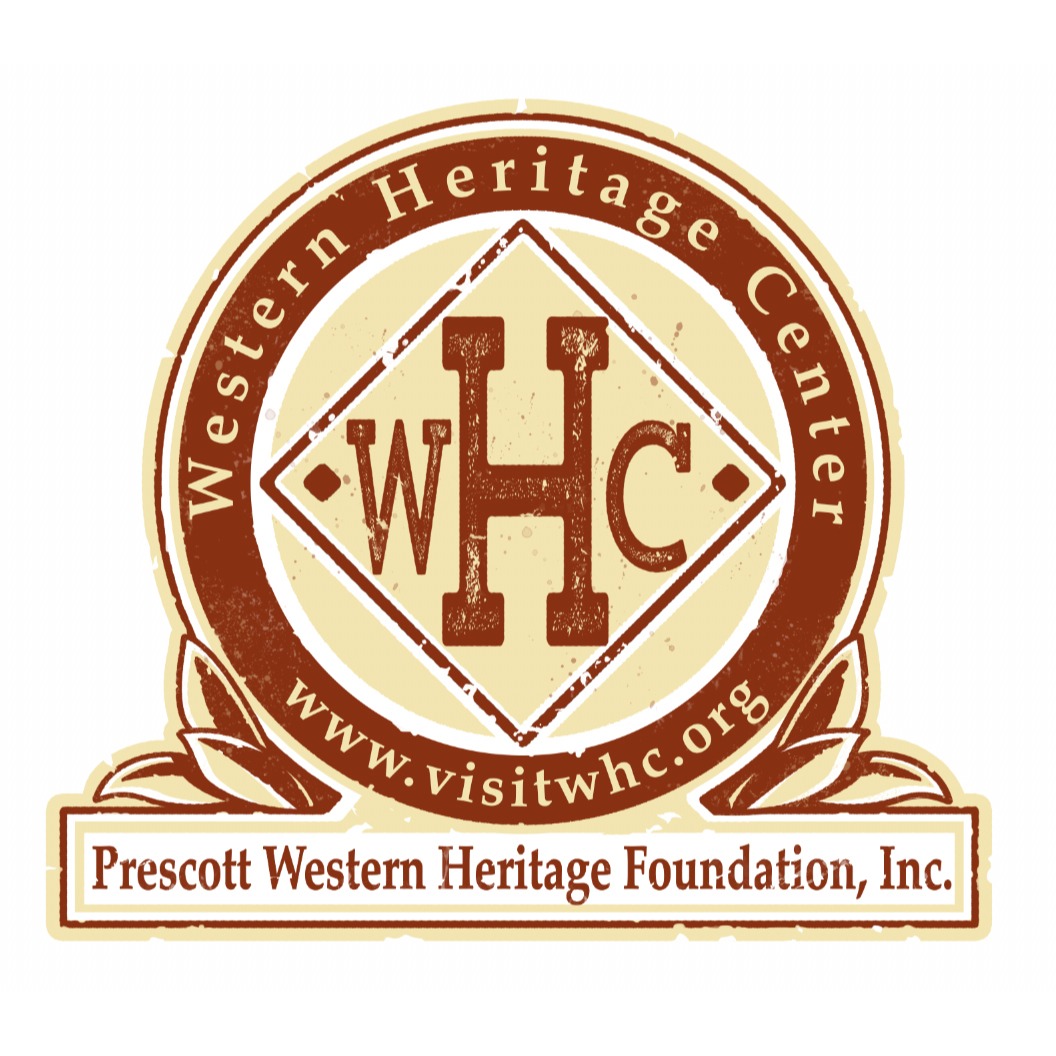 We Did It Again!!! Prescott Corral Wins Prestigious Awards for 2014
We have once again won Westerners International's most prestigious award, the "Co-Founders Heads-Up Award" (for the ninth time since 1970). This annual award goes to the outstanding corral based on programs, membership, publications, activities and community contributions. In this category, awards go to three outstanding corrals: one to a large active corral (that would be us), one to a small active corral and one to the outstanding overseas corral.
Our efforts included the Eleventh Annual History Symposium and producing The Daily Courier's "Days Past" Sunday feature, both in cooperation with Sharlot Hall Museum; Issue 14 of the TERRITORIAL TIMES Magazine with historical articles about the real west; 12 issues of the RoundUp; outstanding monthly dinner programs; contributions to local museums and continuation of the Corral's Website.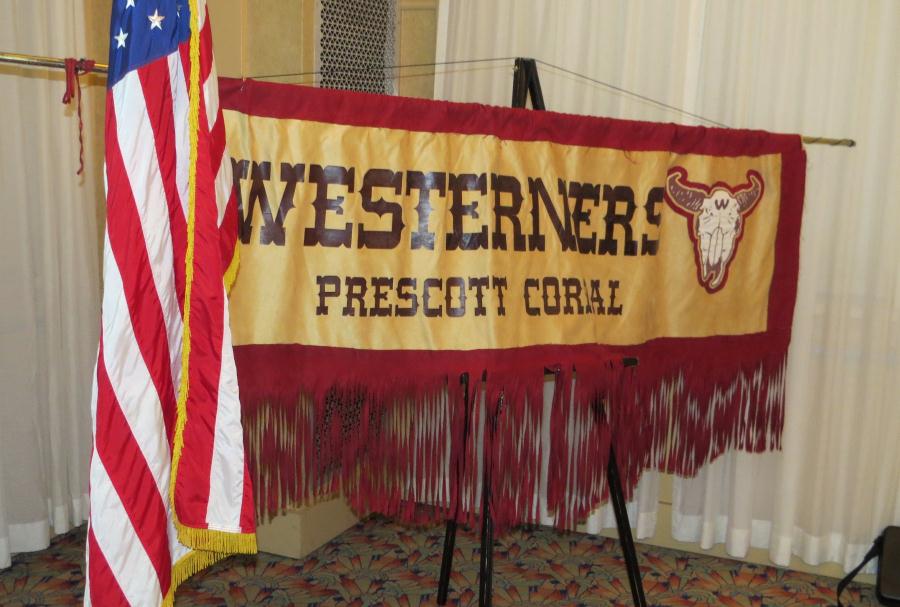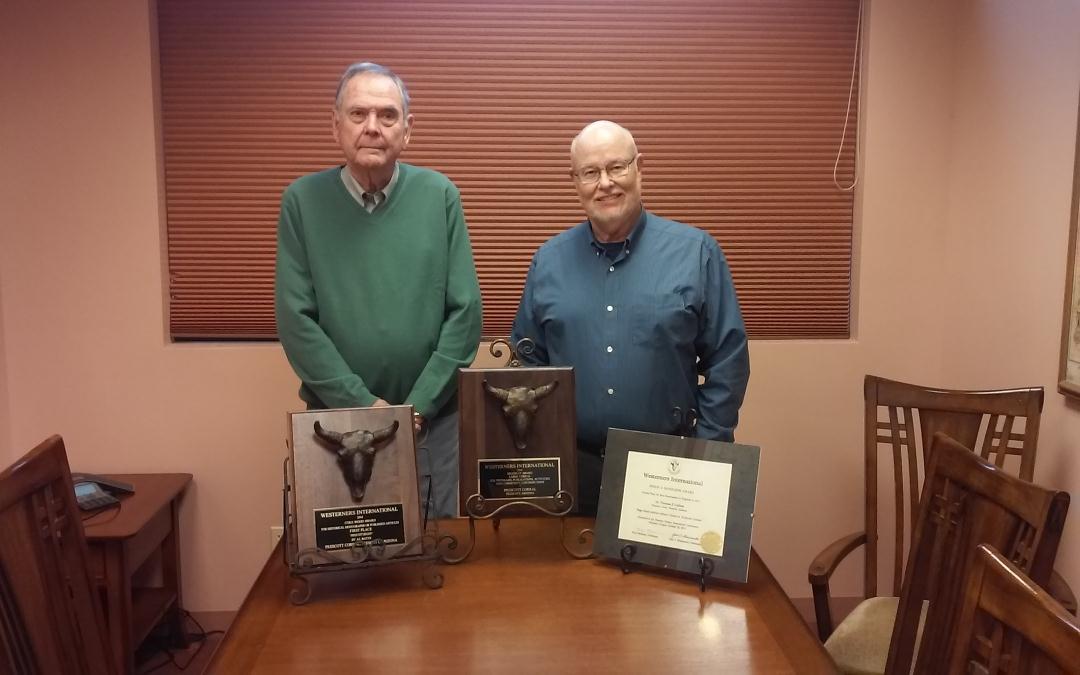 Westerners International Awards for Articles and Programs
Al Bates, former Sheriff and Westerners International Representative, took 1st Place in the Coke Wood Awards for Monographs & Articles for his comprehensive set of articles "Prescott Begins." Al is the first Prescott Corral member ever to win this award. It goes to the best published monographs or articles dealing with Western American history based on individual research, personal knowledge or family records.
Tom Collins, current Past-Sherriff, took 2nd Place in the Philip A. Danielson Awards for Best  Programs for "Stage Struck Soldiers: Military Theater in Territorial Arizona." The Danielson Award is given for the best presentation or program delivered to a corral or posse during the year by a member of Westerners.
Awards were presented at the Westerners Reception during the Western History Association conference in Portland, Oregon, on October 22, 2015.
Pictured: Al Bates (left) and Tom Collins with their awards.
2014 Sharlot Hall Award Goes to Our Own Sylvia Neely
At the August Corral Dinner, as part of the Twelfth Annual Western History Symposium, Sylvia Neely, a long time Corral member, received the 2014 Sharlot Hall Award for her wide ranging work as an historian and preservationist. The award is named in honor of Sharlot Madbridth Hall, founder of Sharlot Hall Museum. It is awarded annually to a living Arizona woman who has made a valuable contribution to the  understanding and awareness of Arizona and its History.
As a young girl attending school in Prescott and living at Fort Whipple, Sylvia became enamored with the cultural legacy and historical significance of the area. She is particularly proud of her work in honoring the pioneer, territorial women of Arizona. She pieced together family recollections, details, facts and sketches that comprise many of the biographies of those honored by the Territorial Women's Memorial Rose Garden at Sharlot Hall Museum. Another of her favorite efforts over time has been her preservation work recording and collecting the school histories that led to centenary celebrations for Lincoln and Washington Schools. Sylvia has received several other honors, including the Elisabeth Ruffner Award for Historic Preservation Excellence.