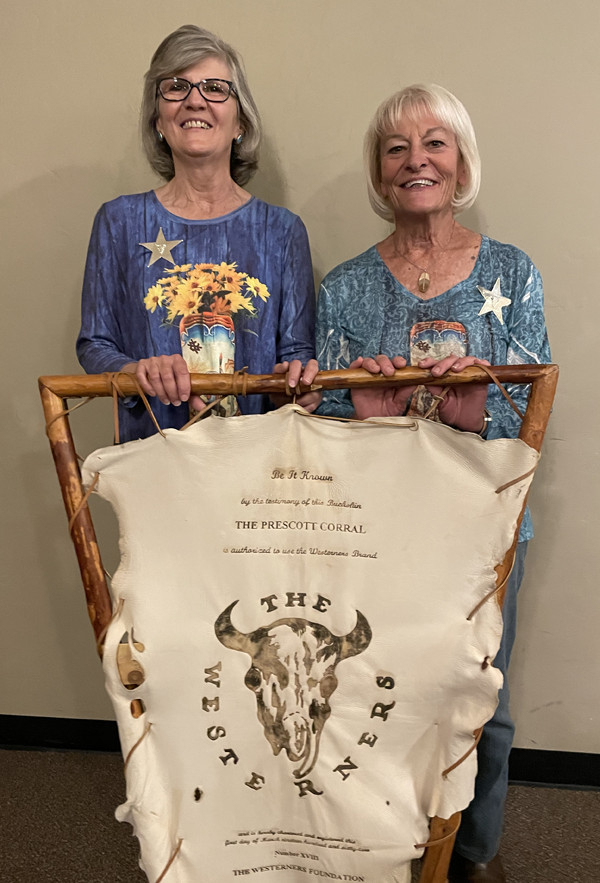 A Message from Our Sheriff
Howdy Corral Members,
Where has the time gone? It's December already and time for our holiday meeting!
We will now be opening the doors at 5:00 for our dinner meetings. The Posse and the Centennial Center will be ready at that time to welcome our members.
Regarding our dinners, I want to remind you of the dinner cancellation policy we must follow. Our Corral must give the final meal count to the Centennial Center on the Tuesday morning prior to our dinner (two days later). We are charged, at this time, for each meal regardless of whether a member attends or not. As a result, all dinner reservations that need to be canceled MUST go to Bob Harner before that Tuesday morning. An exception would be a medical emergency. If a couple makes a reservation and then finds that one of them can't attend, the one who does attend can ask for a "go" box to take a meal home.
As I've mentioned, we do have requests for rides from some members. We have a signup list available on the front table.
My year as your Sheriff is coming to a close. It has been my pleasure to be Sheriff and I've enjoyed the opportunity to meet you, our members. I look back at our Corral's accomplishments this year such as welcoming our new first-rate Posse members (Swamper Carole Penberthy and Trail Boss Buz Williams), providing great speakers and presentations at our monthly dinners, our continued collaboration with the Centennial Center, sponsoring the Frontier Days Rodeo, taking on the job of printing and mailing the Roundups, emailing Roundups to members, updating our Bylaws and Procedures, giving "Welcome"
envelopes to guests at our dinners, and a very successful Western History Symposium again at the Phippen Museum.
None of this could have occurred or succeeded without the help of our Posse. They gladly took on whatever task I asked of them. I have to express my gratitude and special thanks to all of them: Ken Leja, Immediate Past Sheriff, who provides our A/V each month; Shelly Dannatt, my Deputy and the next Sheriff; Bob Harner, Keeper of the Chips, who manages our finances and frequently updates our website; Bernard Ruhnke, Past Sheriff who maintains our membership list; Diane Christenson, Assistant Swamper and excellent raffle ticket seller; A.J. Sheridan, Past Sheriff; Bev Stuart-Borok, Past Swamper; and as I mentioned Carole Penberthy, Swamper; and Buz Williams, Trail Boss.
Lastly, I want to thank Dawn and her superb staff at the Centennial Center for providing our delicious meals and for always being helpful and willing to accommodate our requests.
I leave my position knowing that our Corral will be guided successfully by Sheriff Shelly Dannatt and the Posse. I'll see you in 2024.
Best wishes to all of you!
Kathy Mancino, Sheriff
Arizona History Convention - April 2023
The Prescott Corral has long been recognized as one of the largest (in membership) and most recognized of Westerns International local groups.  Many of our members have participated in the programs of the Arizona History Convention, and have been honored for their contributions to the preservation of Arizona History.
The 64th convention will be held April 13-15, 2023, at the Tempe History Museum and Library Complex in Tempe, Arizona.  A featured event will be the plenary (opening) session on Friday afternoon with Maurice Crandall making the keynote presentation.
The three-day conference will be a hybrid — sessions held both in-person and online, allowing
presenters and attendees to choose how they wish to participate, according to Heidi Osselaer, executive director for AHC and a long-time friend of the Prescott Corral and frequent present at the Western History Symposium. Presentation topics will relate to Arizona or southwestern borderlands history.  Sessions are planned for 90-minutes in length allowing for three presentations of an expanded 25-minute time segment… and each of these sessions will be available in-person AND online. 
Wish List
Seeking a Corral Historian — Your help is needed in video recording the monthly Corral meetings.  We have the technology — but we need someone with a flair for capturing it.  Contact Ken Leja for details — 928-830-8236.
Future Speakers Encouraged

— We know you're busy… that you're involved in many other activities, and are exposed to a lot of presentations.  If you find one that might be good for our dinner meetings, let us know.  Both Sheriff Kathy and Deputy Sheriff Shelly are planning now for the Fall and Winter '23 season as well as all of 2024.