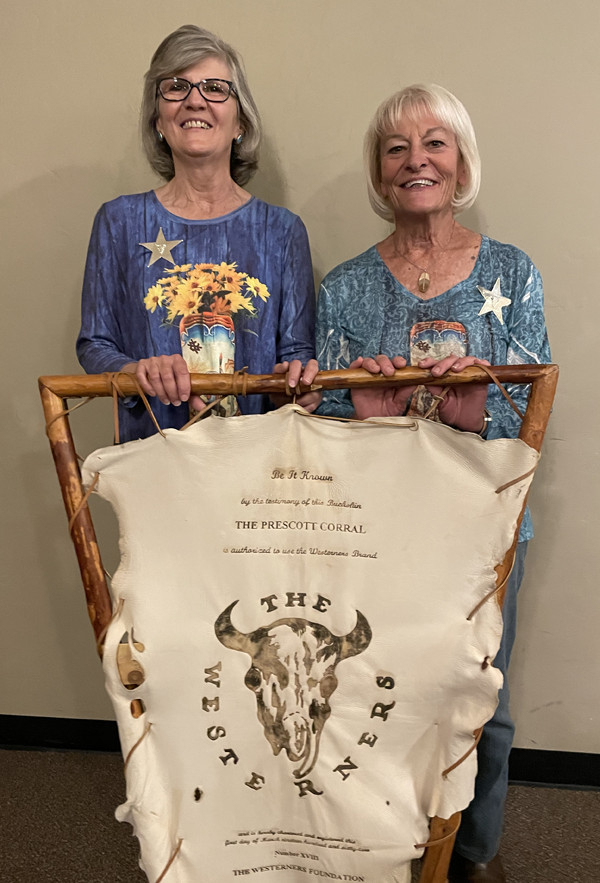 A Message from Our Sheriff
Welcome Cowboys and Cowgirls,
I hope you all had wonderful holidays!
In December, Melissa Ruffner treated us to her presentation of reminiscences of early Prescott. She was entertaining and informative and her territorial dress was beautiful and festive. Our members were dressed in their "holiday best" which added to the fun of the evening.
I'm glad we missed the "Bomb Cyclone" wind and snow event at the end of December. Being from western New York originally, I have not-so-fond memories of that kind of weather. We benefit from snow during the winter (the snowmelt helps our water levels) but we want to stay safe and sound.
Recently, I was interviewed by True West magazine. They were looking for information about our Prescott Corral as well as why Prescott is such a unique western town. I don't know when this information will be used but I'm glad that our Corral is a part of it.
The Corral has printed new Membership brochures and will be placing them around town. They will be available at our dinner meetings too. Encourage your friends and family to become Prescott Corral members.
Deputy Sheriff, Shelly Dannatt, will be leading our February dinner meeting. I will be away on a vacation that I planned so long ago that I forgot I was Sheriff for this one! I'm sure you will be in capable hands and I plan to be here throughout the rest of the year.
The Posse is already discussing potential speakers for our August 5th Western History Symposium at the Phippen Museum. We hope to have the Boy Scouts prepare lunch again. It is expected that we will repeat the successful event we had last year.
Friendly reminder
Please renew your membership if you haven't done so already. We rely on your support to
continue our monthly dinners and presentations. The Corral Membership dues notice for 2023 was included in the last Roundup. Forms will also be available at our next dinner. The dues are $25 per Individual Membership and $40 per couple.
"Days Past" articles, our collaboration with the Sharlot Hall Museum, are always appreciated. If you have one to contribute or have questions, contact Maria Grant at [email protected].
If you have any comments or suggestions about our Corral, please do not hesitate to contact me or any Corral officers. We need your input to keep going strong into the future!
Kathy Mancino, Sheriff
Arizona History Convention - April 2023
The Prescott Corral has long been recognized as one of the largest (in membership) and most recognized of Westerns International local groups.  Many of our members have participated in the programs of the Arizona History Convention, and have been honored for their contributions to the preservation of Arizona History.
The 64th convention will be held April 13-15, 2023, at the Tempe History Museum and Library Complex in Tempe, Arizona.  A featured event will be the plenary (opening) session on Friday afternoon with Maurice Crandall making the keynote presentation.
The three-day conference will be a hybrid — sessions held both in-person and online, allowing
presenters and attendees to choose how they wish to participate, according to Heidi Osselaer, executive director for AHC and a long-time friend of the Prescott Corral and frequent present at the Western History Symposium. Presentation topics will relate to Arizona or southwestern borderlands history.  Sessions are planned for 90-minutes in length allowing for three presentations of an expanded 25-minute time segment… and each of these sessions will be available in-person AND online. 
Wish List
Seeking a Corral Historian — Your help is needed in video recording the monthly Corral meetings.  We have the technology — but we need someone with a flair for capturing it.  Contact Ken Leja for details — 928-830-8236.
Future Speakers Encouraged

— We know you're busy… that you're involved in many other activities, and are exposed to a lot of presentations.  If you find one that might be good for our dinner meetings, let us know.  Both Sheriff Kathy and Deputy Sheriff Shelly are planning now for the Fall and Winter '23 season as well as all of 2024.