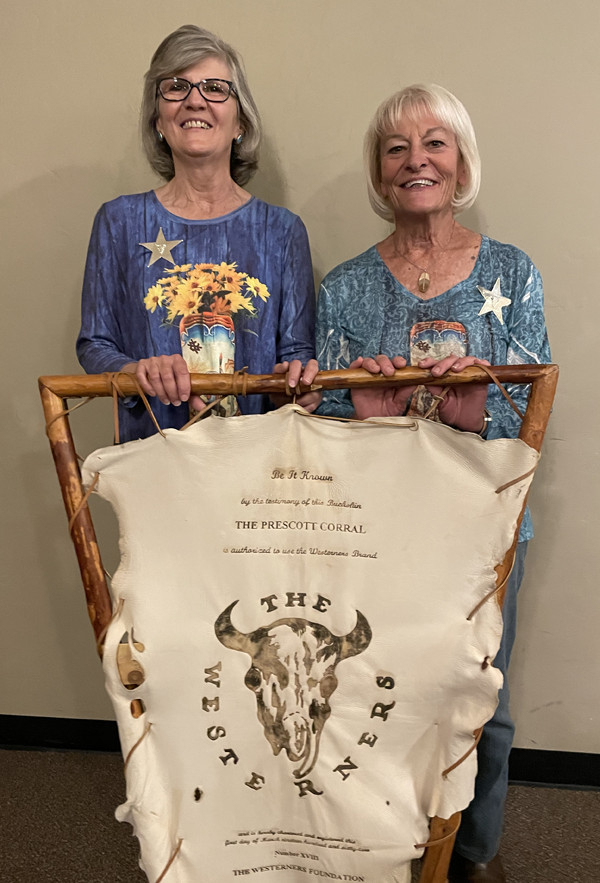 A Message from Our Sheriff
Howdy Fellow Westerners,
Thank you to all who have renewed your membership to our Corral. This month we are distributing our "Final Notice". We realize that many of you will have renewed by the time you get this Roundup. If you have, there is no need to contact our "Keeper of the Chips" again.
As I mentioned at our January dinner, please consider getting your Roundups delivered to your email. We will have a sign-up list at our meeting and will begin with the emailing of the March Roundups.
Deputy Sheriff Shelly Dannatt and I met with the Director of the Phippen Museum in January. This was the first step in planning our August 5, 2023 Symposium. We are looking forward to another full day of exceptional speakers.
In the past, we asked Western History Symposium attendees to give us their email addresses so that we could continue to communicate with them. Recently, we emailed previous non-Corral attendees (whose email addresses we could read) with the date and location for our upcoming Symposium along with a copy of the Roundup and a Corral brochure.
I am pleased to announce that the Sharlot Hall Museum will again join our Corral in presenting the Sharlot Hall Award. It will be given to a well-deserving candidate (to be selected by the Sharlot Hall Museum) at our November dinner meeting. This award has a 38-year history of being presented to a living Arizona woman for her valuable contributions to the understanding and awareness of Arizona and its history. Some previous awardees are current Corral members or were past members.
We are fortunate to have many members with unique lives and professions. Several have made presentations to our Corral. We have historians, researchers, authors, directors of local western museums and institutions and community leaders. I hesitate to name them because I might leave someone off the list which I would hate to do. We truly follow our mission to promote and preserve the history of the West.
Happy trails to you, until we meet again!
Kathy Mancino
Sheriff
Arizona History Convention - April 2023
The Prescott Corral has long been recognized as one of the largest (in membership) and most recognized of Westerns International local groups.  Many of our members have participated in the programs of the Arizona History Convention, and have been honored for their contributions to the preservation of Arizona History.
The 64th convention will be held April 13-15, 2023, at the Tempe History Museum and Library Complex in Tempe, Arizona.  A featured event will be the plenary (opening) session on Friday afternoon with Maurice Crandall making the keynote presentation.
The three-day conference will be a hybrid — sessions held both in-person and online, allowing
presenters and attendees to choose how they wish to participate, according to Heidi Osselaer, executive director for AHC and a long-time friend of the Prescott Corral and frequent present at the Western History Symposium. Presentation topics will relate to Arizona or southwestern borderlands history.  Sessions are planned for 90-minutes in length allowing for three presentations of an expanded 25-minute time segment… and each of these sessions will be available in-person AND online. 
Wish List
Seeking a Corral Historian — Your help is needed in video recording the monthly Corral meetings.  We have the technology — but we need someone with a flair for capturing it.  Contact Ken Leja for details — 928-830-8236.
Future Speakers Encouraged

— We know you're busy… that you're involved in many other activities, and are exposed to a lot of presentations.  If you find one that might be good for our dinner meetings, let us know.  Both Sheriff Kathy and Deputy Sheriff Shelly are planning now for the Fall and Winter '23 season as well as all of 2024.