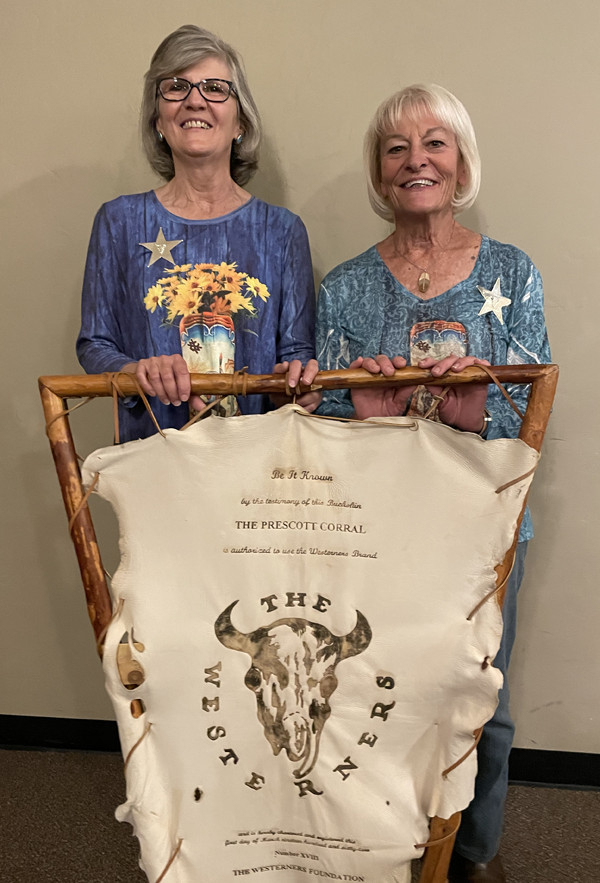 A Message from Our Sheriff
Howdy Pardners,
Our Corral is trying something new this year. We are sponsoring the Prescott Frontier Days World's Oldest Rodeo which runs from June 28-July 4. Our advertisement will be in the rodeo program and will include our logo and website address. Although we've been here since 1962, many people are not familiar with our organization so we are hoping that it will inform them and stimulate interest in our Prescott Corral of Westerners. Prescott Frontier Days supports many local organizations, through its sponsors, and we are happy to be part of that in our community. Our sponsorship provides us with two admission tickets for each of the
eight rodeo performances this year. We will be offering these to you at the June dinner meeting through our raffles and door prizes.
Our Corral will be submitting some of our "Calendar of Events" to Westerners International so that they can print them in the Buckskin Bulletin. We are also investigating the possibility of publicizing our Corral in the Prescott Daily Courier.
We are currently planning a surprise for you at our July meeting. I think you will really enjoy it! Details will be announced in the next Roundup.
Recently, Deputy Sheriff Shelly Dannatt, and I phoned all the members who had not renewed their memberships this year. Unfortunately, any member who has not renewed will soon be removed from our membership list and will no longer receive the Roundups or be able to attend our dinner meetings. We are sorry to lose them and we understand that some members have to drop their membership due to health concerns or other scheduling issues. They are always welcome to return.
Last, but not least, please remember that doors open at 5:15 for our dinner meetings. The staff at the Centennial Center, as well as your Posse (board) needs this time to set-up for our dinners. Thank you for your understanding and cooperation.
Happy Trails to You!
Kathy Mancino
Sheriff
928-362-9240
Arizona History Convention - April 2023
The Prescott Corral has long been recognized as one of the largest (in membership) and most recognized of Westerns International local groups.  Many of our members have participated in the programs of the Arizona History Convention, and have been honored for their contributions to the preservation of Arizona History.
The 64th convention will be held April 13-15, 2023, at the Tempe History Museum and Library Complex in Tempe, Arizona.  A featured event will be the plenary (opening) session on Friday afternoon with Maurice Crandall making the keynote presentation.
The three-day conference will be a hybrid — sessions held both in-person and online, allowing
presenters and attendees to choose how they wish to participate, according to Heidi Osselaer, executive director for AHC and a long-time friend of the Prescott Corral and frequent present at the Western History Symposium. Presentation topics will relate to Arizona or southwestern borderlands history.  Sessions are planned for 90-minutes in length allowing for three presentations of an expanded 25-minute time segment… and each of these sessions will be available in-person AND online. 
Wish List
Seeking a Corral Historian — Your help is needed in video recording the monthly Corral meetings.  We have the technology — but we need someone with a flair for capturing it.  Contact Ken Leja for details — 928-830-8236.
Future Speakers Encouraged

— We know you're busy… that you're involved in many other activities, and are exposed to a lot of presentations.  If you find one that might be good for our dinner meetings, let us know.  Both Sheriff Kathy and Deputy Sheriff Shelly are planning now for the Fall and Winter '23 season as well as all of 2024.