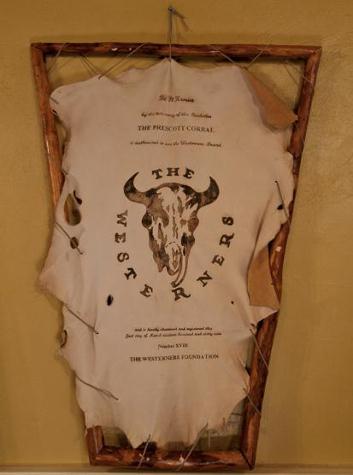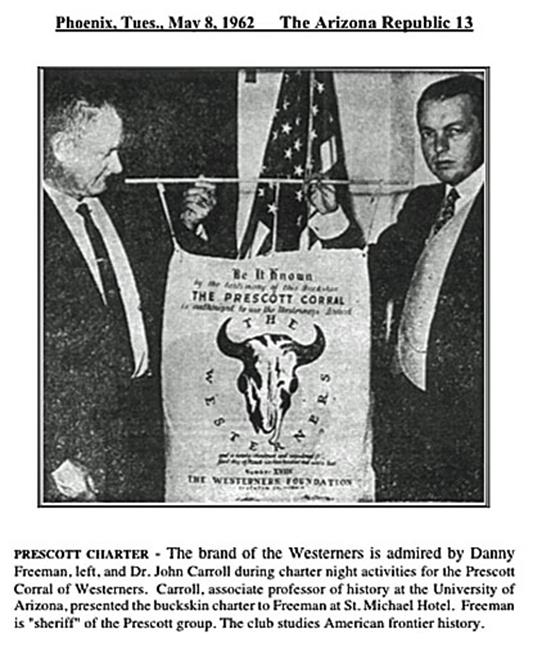 Founding of the Prescott Corral
Dr. Charles Franklin Parker, minister of the Prescott First Congregational Church and founding president of Prescott College, invited ten men for a Dutch treat dinner at the Hassayampa Hotel on November 10, 1961. In attendance were Walt Coburn, J.D. Freeman, Matt Culley, Phil Rockfellow, Harold Koechling, Budge Ruffner, Gail Gardner, Charles Greene, Chick Orme and Parker. Charles U. Pickrell, former Director of the Arizona Extension Service, was invited as the principal speaker. He talked about the activities of the Tucson Corral, where he was Sheriff, and gave a brief history of Westerners, who they were and what were their objectives.After discussion it was decided that the Prescott group would operate as a Westerners Corral on a temporary basis for four months. Danny Freeman was made Temporary Sheriff and Harold Koechling Secretary-Treasurer. Before the conclusion of the trial period the group decided to set up a permanent organization. Danny Freeman continued as Sheriff, Gail Gardner was Deputy Sheriff Harold Koechling Keeper of the Chips and Budge Ruffner, Trail Boss.The Keeper of the Chips was authorized to send $25.00 to Westerners Foundation, Stockton, California, to purchase an official Westerners Buckskin Charter. This Charter, Number 18, is dated March 1, 1962. It was attached to an old single-tree donated by charter member Frank Armer owner of the Spider Ranch near Fair Oaks.
CHARTER NIGHT
Charter night was held in the Crystal Ball Room of the St. Michael Hotel on the evening of May 4, 1962. Ladies were invited and the total attendance was about 75. The Charter was presented by Dr. John A. Carroll, associate professor of history, University of Arizona, and Sheriff of the Tucson Corral. He was the featured speaker of the evening and spoke on "The Inevitability of the Little Big Horn." During the meeting Dr. Carroll made the presentation of our original "Old Joe" buckskin charter. Our charter has continued to have a prominent place of honor at all meetings of our corral except for two periods when it went missing, but more of that later.
CHARTER MEMBERS
The 36 Charter Members of the Prescott Corral were: Frank Armer, James M. Brown, Sr., James M. Brown Jr., Frank Carson, Ray Chester, Walt Coburn, Bill Coerver, Warren Corley, Matt Culley, Norman Fain, Al Favour, Bruce Fee, Danny Freeman, Gail Gardner, Charles Greene, John Hays, Harold James, Bob Kieckhefer, Harold Koechling, Howard Moffatt, Ernest Money, Bill Nixon, Chick Orme, Jack Osborn, Charles Franklin Parker, George Phippen, Tom Rigden, Paul Roberts, Phil Rockfellow, Lester W. (Budge) Ruffner, Dan Seaman, Jim Stewart, Bill Ward, Dick Williams, Paul Wright, C. E. Yount, Jr.
THE CHARTER GOES MISSING
A decade or so later it was noticed that the Charter buckskin banner had gone missing, probably stolen, no one knows when, nor by whom. Sheriff Kenneth Calhoun ordered a replacement, but somehow Westerners International sent the wrong number and date for the replacement. Doctor Calhoun and Danny Freeman got together and made a new banner with the correct number and date. The new buckskin banner was from a springbok, an African gazelle. It is lightweight, accurate and beautiful. Ken adorned it with his own feathers, bear claws and Indian arrowheads, and it was officially unveiled at the 20th Anniversary ceremony on May 7, 1982. In 2001 Jay Cothrell reworked and repaired the framing of the Charter that had been damaged at the Fain Park "Outing".
THE CHARTER GOES MISSING—AGAIN
The replacement banner lasted for 22 years. At the end of 2004, as we were preparing to change locations for our monthly meetings, the "host" at the old location could not locate the banner. After a fruitless search we had to concede that it was irretrievably gone and a replacement should be obtained. A group of past and future Corral Sheriffs—led by Fred Veil and Jay Cothrell—took up the challenge and a replacement was soon on display at our meetings.
SOME SIGNIFICANT CHANGES
The first Bylaws were approved and adopted on April 7, 1962. They stated: The Prescott Corral of Westerners is organized as a non-profit, nonpartisan, independent group of people interested in the study and perpetuation of all phases of the lore, traditions, culture, history and development of the great American West, the dissemination of which shall be accomplished through monthly meetings. The purpose of the Prescott Corral shall be dedicated to preserving permanently historical subjects of the West which otherwise might be lost to posterity. Other parts of the Bylaws mentioned that the membership shall be limited to 36 men and that vacancies shall be filled by majority vote, by secret ballot of the members present. The purpose of limiting membership was to give all an opportunity to research historical subjects and present the findings at the meetings each month. It was felt that each member should make a report on a selected subject about every two or three years. The idea and intentions were good but things did not work out exactly as hoped for.
Over time the bylaws were changed to increase the membership and on December 5, 1965, they were amended to read: "Membership shall not be limited as to number nor because of the sex of the prospective member." Later, Gail Gardner made this comment, "Letting women in was the greatest thing that ever happened. After that our membership and attendance began to grow substantially."
Through the years the total membership has fluctuated from the 36 Charter Members to a maximum of 303 in 1976. Our current membership is around 210. In March 1993 it was realized that there was no provision for Life Members in the Bylaws so this stipulation was added. In 1998 a further amendment was added allowing appointed members of the Posse a vote in Posse matters.
Past Sheriffs of Prescott Corral
(*indicates deceased)
1962  DANNY FREEMAN*

1963  GAIL GARDNER*

1964  BUDGE RUFFNER*

1965  PAUL ROBERTS*

1966  BRUCE FEE*    

1967  CHARLES PRATT           

1968  DR. TAYLOR HICKS, SR.*

1969  DWIGHT BENNETT

1970  WALTER ARMSTRONG 

1971  HOWARD STRICKLIN*  

1972  DR. C. F. PARKER*

1973  E. L. McINTOSH*

1974  LEE WAGGONER*

1975  EDDIE BROOKS, SR*.

1976  W. C. RUPKEY*

1977  PAUL ROSENBERGER*  

1978  EARLE FRANK

1979  CHUCK NICHOLAS*

1980  DR. KENNETH CALHOUN*

1981  DOROTHY CHAFIN*

1982  DR. RANDY CLARK* 

1983  RAY SHIRE*

1984  RAY CLIFT

1985  HUGH RICHARDSON*

1986  DICK WILLIAMS*

1987  JIM BROWN, JR. *

1988  JERRY EVERALL

1989  ROBERT STRAGNELL, M.D.*

1990  KENDALL CUMMING*

1991  ROBERT McDOLE*

1992  SUE WILLOUGHBY

1993  GEORGE GEIB

1994  BOB WELCH*

1995  MARTY WIST*

1996  DAVE JENNER

1997  BILL PARKER

1998  AL BATES

1999  PHIL KURITZKY*

2000  WOODY JONES

2001  MIKE WURTZ

2002  JOYCE IRWIN

2003  JAY COTHRELL

2004  FRED VEIL

2005  JOY BATES

2006  ANDY WALLACE

2007  ELDON BOWMAN*

2008  MIKE SHEPPARD

2009  DON SHAFFER*

2010  ROLAND MICHAELIS*
2011  PAT MOORE*

2012  CINDY GRESSER

2013  DANA SHARP

2014  TOM COLLINS

2015  BRAD COURTNEY

2016  JOHN McKINNEY

2017  BERNARD RUHNKE
2018  VAL RIPLEY
2019  A.J. SHERIDAN
2020  MURRAY SMOLENS
2021  A.J. SHERIDAN
2022  KENNETH LEJA
Lifetime Members
1966 DR. C. F. PARKER*

1976 BILL* & GURTHEL* WARD

1977 DORA HEAP*

1977 BLAINE BOWMAN*

1982 GAIL* & DELIA* GARDNER

1985 SUSAN RICHMOND*

1993 MARTHA CALDWELL*

1994 BERNICE STORM*

1995

DANNY* & NORITA* FREEMAN

1996 BUDGE* & ELISABETH* RUFFNER

1997 BRUCE FEE

*

1999 DOROTHY CHAFIN*

1999 BOB & LIBBY STRAGNELL

2000 MARTHA CURTIS*

2002 BILL* & NADYNE* BORK

2006 AL & JOY BATES

2008 PAT WELCH*

2012 FRED & SALLY* VEIL
Awards & Honors
The Prescott Corral has long been both one of the largest and most recognized of WI local groups with a growing list of awards from the parent organization.
The Co-Founders Heads-Up award was inaugurated by Westerners International in 1970 and is presented to the Corral that has the most outstanding activities that enhance historic awareness of its community and furthers the purpose of Westerners with the most innovative and interesting programs.
Prescott Corral has won this most prestigious of WI awards on many occasions. The list of award winning years and the names of that year's Sheriff follow:
1971—Sheriff Howard B. Stricklin

1980—Sheriff Kenneth Calhoun

1989—Sheriff Robert Stragnell

1992—Sheriff Sue Willoughby

1993—Sheriff George Geib

1997—Sheriff Billy Parker

2008—Sheriff Mike Shepard

2013—Sheriff Dana Sharp

2

014—Sheriff Tom Collins
Prescott Corral program presenters have won numerous individual awards from WI.
The Philip A. Danielson Award for the best paper presented at a WI Corral award winners are:
1988—L. Bernard Schmidt for

"The Gadsden Purchase Play – Manifest Opportunity Revisited,"

Second Place

1989—Reba Wells for

"John Slaughter's Ranch,"

First Place

1992—Danny Freeman for

"Settlement of Simmons,"

Third Place

1999—Bill Bork for

"The Impact of Wild West Culture in Germany,"

First Place

2002—Al Bates for

"Jack Swilling in Yavapai County,"

Third Place

2003—Fred Veil for

"Charles Henry Veil: Civil War Veteran, Indian Fighter and Arizona Pioneer,"

Third Place

2004—Bruce Fee for

"George Phippen, Prescott's Premier Western Artist,"

First Place

2007—Dick Bowerman for

"Gail Gardner: A Man Worth Remembering,"

Third Place

2007—Norm Delucchi for

"The Streetcars of Prescott,"

Third Place

2009—Joe Briggs for

"Spring Roundups 1905-2005,"

Third Place

2013—Al Bates for "

Prescott's 1898 Railroad War,"

Third place.

2014—Tom Collins for

"Stage Struck Soldiers"

Second place.
Corral Members recognized in the "Coke" Wood competition for published short articles or monographs are:
1997—Mona McCrosky for

"Bill Bork Hometown Historian"

published in Sharlot Hall Museum's,

Cactus and Pines,

Second place.

2014—Al Bates for

"Prescott Begins"

published in

The Territorial Times,

Volume VII Number 2, First place.
Other WI recognitions for our corral members:
2007—Andy Wallace took second place in the "Co-Founders Best Book Award" category for

From Texas to San Diego in 1851: The Overland Journal of Dr. S. W. Woodhouse, Surgeon-Naturalist of the Seagraves Expedition

co-authored with Richard H. Hevly.
Both Bill Bork and Bruce Fee have been recognized as "Living Legends" in the WI publication the Buckskin Bulletin for their contributions to the preservation of Western History.