Western History Symposium
20th Annual Western History Symposium
SPONSORED BY
THE PRESCOTT CORRAL OF WESTERNERS INTERNATIONAL
Saturday, August 5, 2023
hosted by
Phippen Museum of Western Art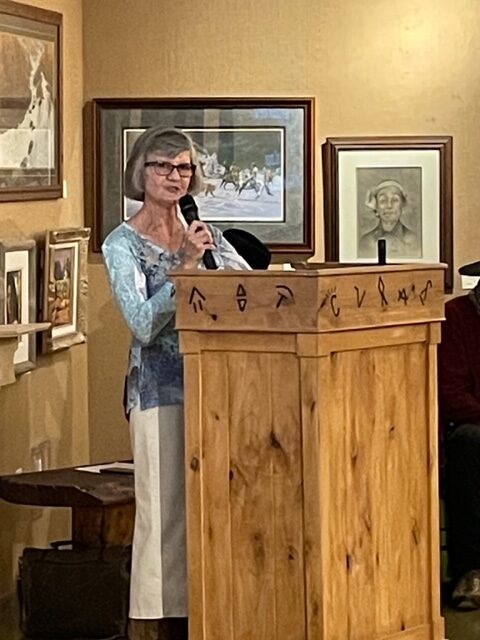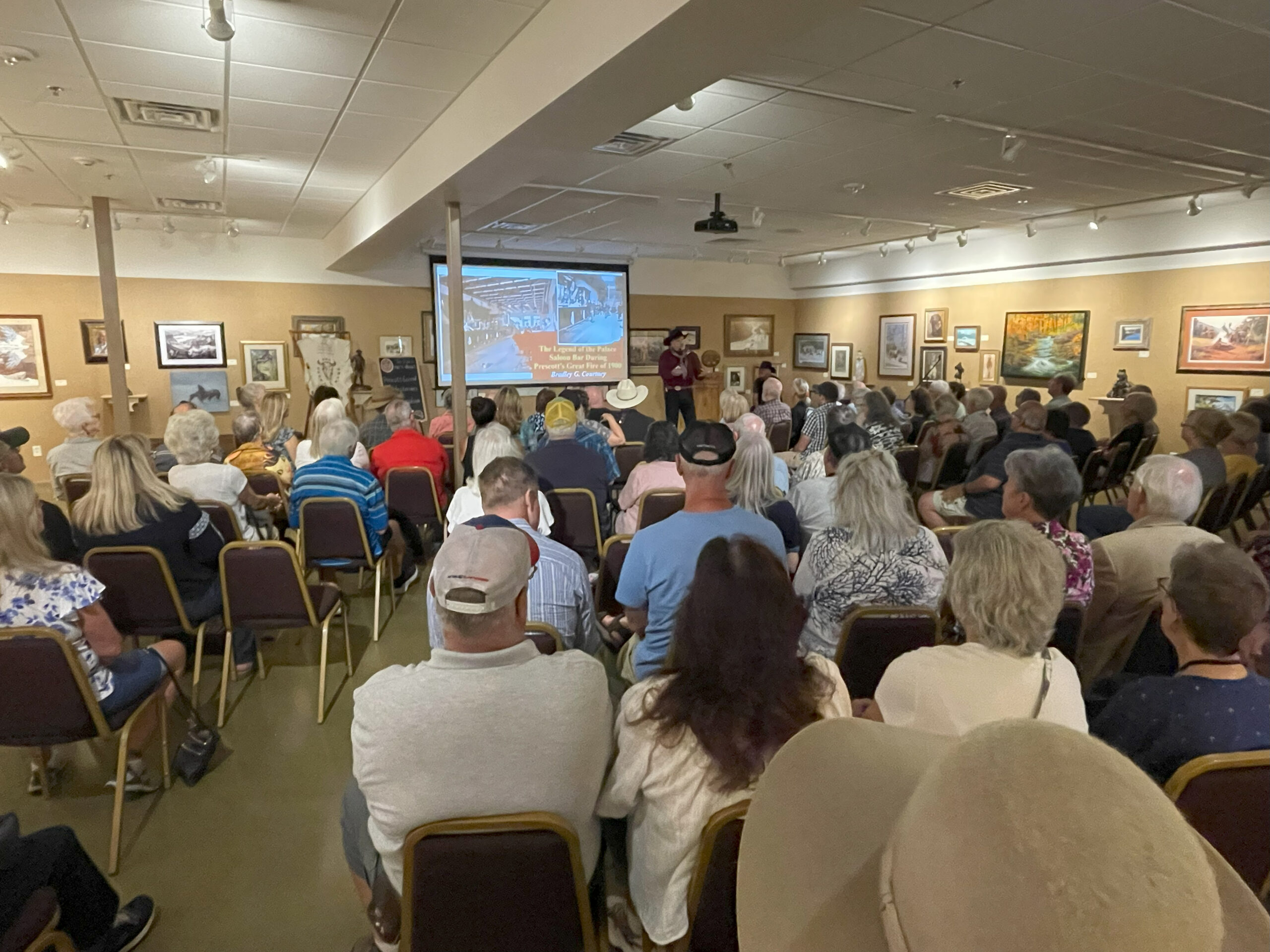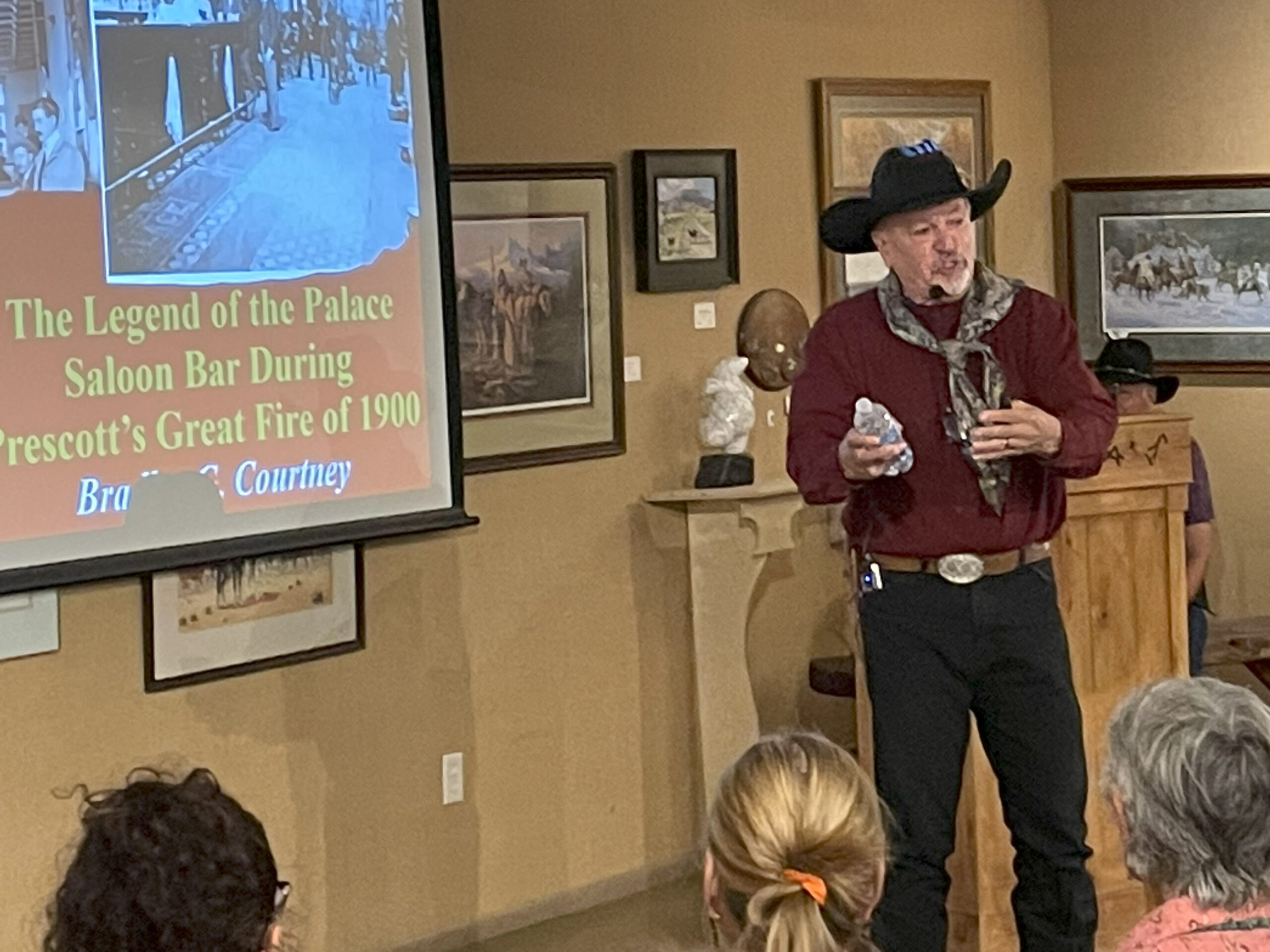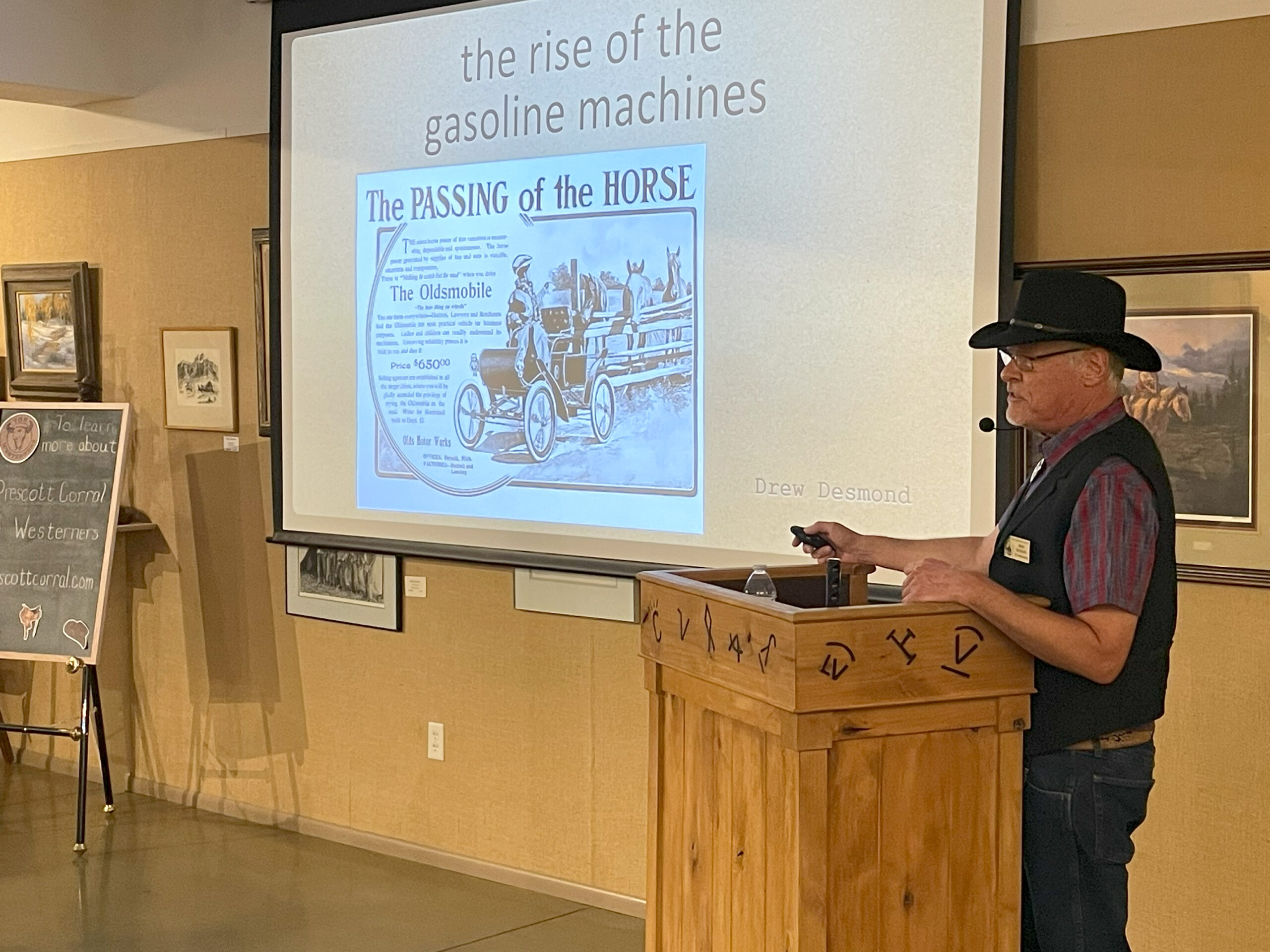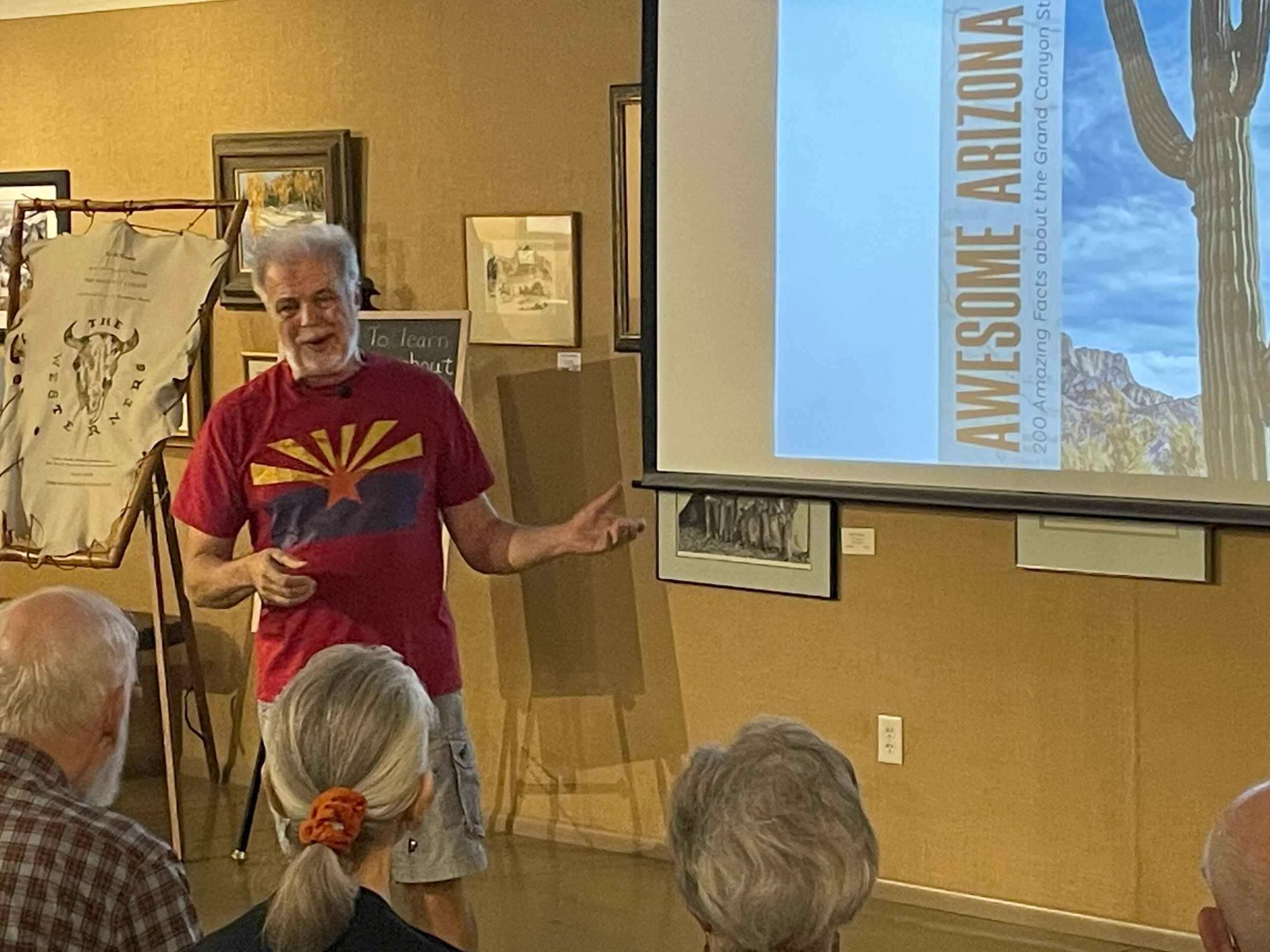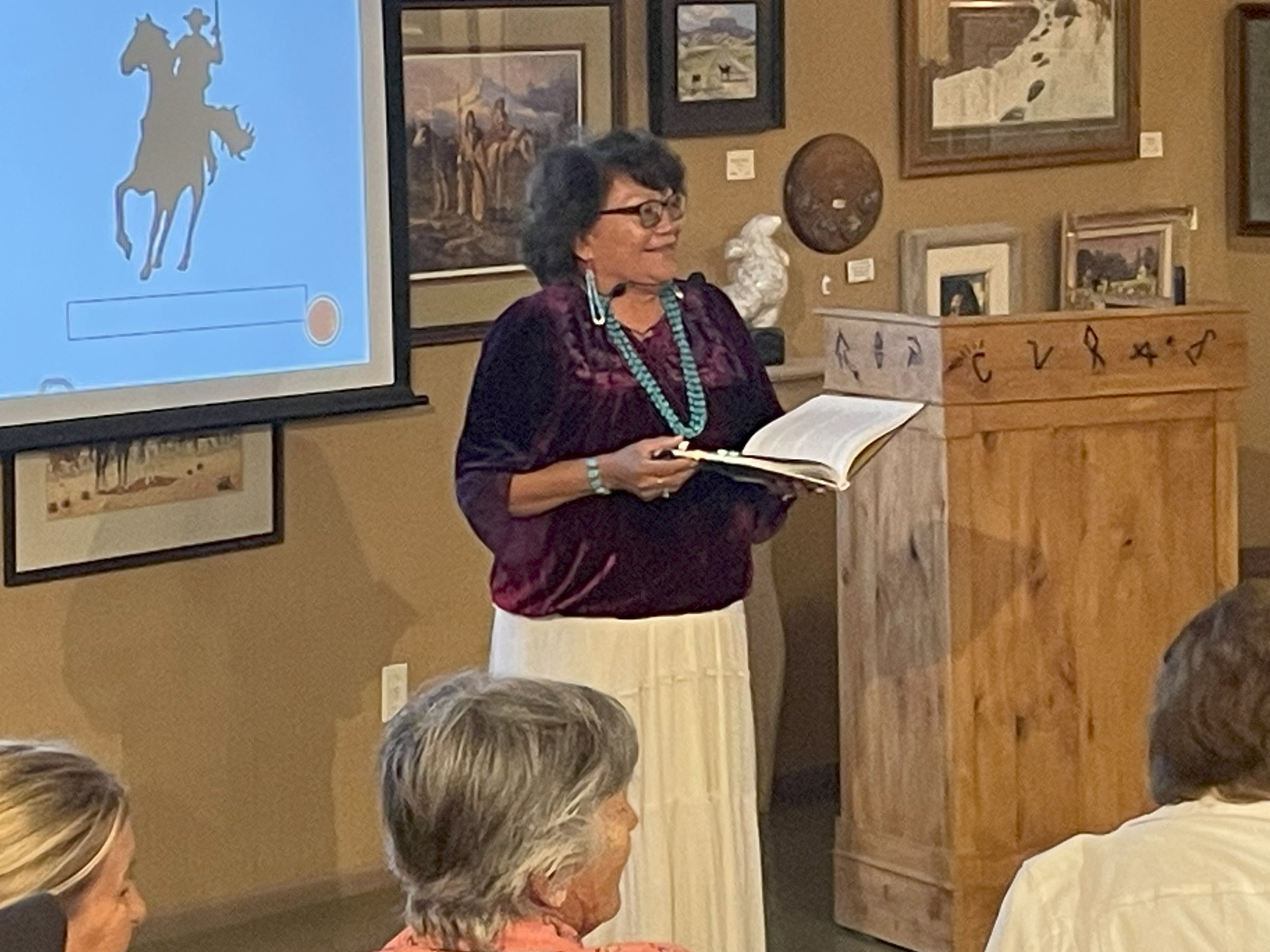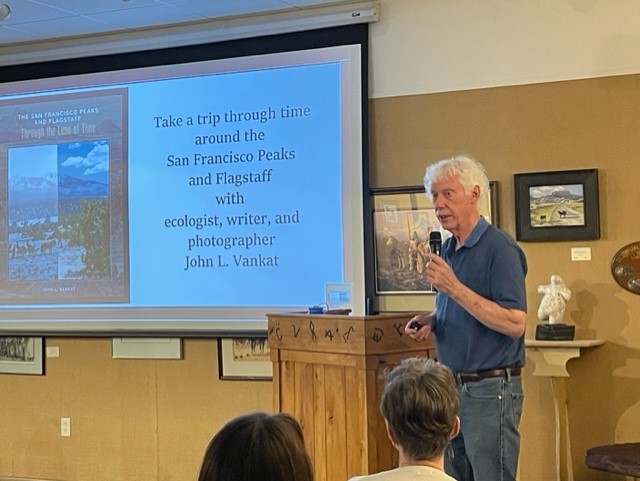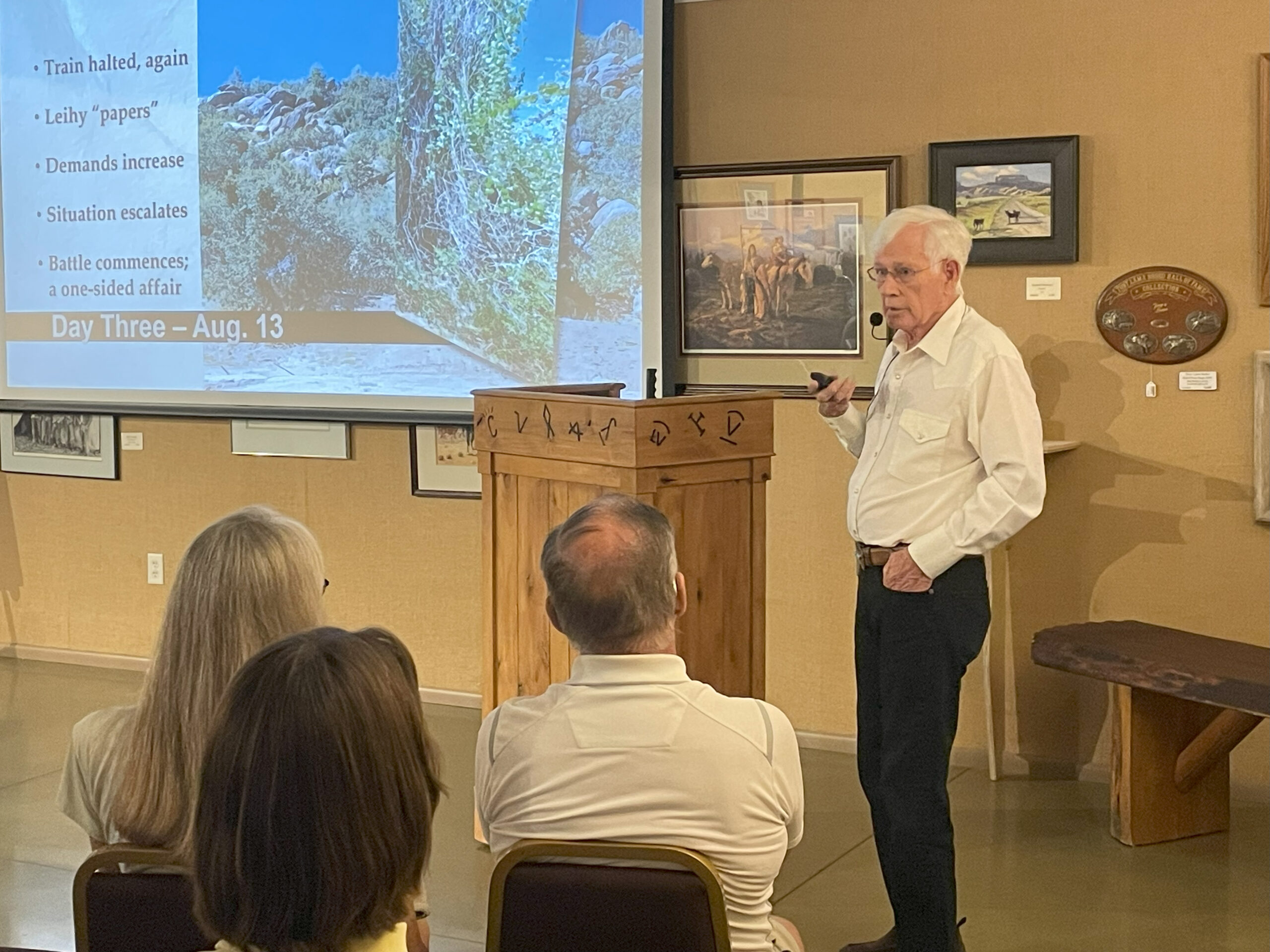 Between 90 and 130 guests enjoyed each of the five FREE LECTURES held at the 20th Annual Symposium conducted on Saturday, August 5.  The Symposium was hosted at Prescott's Phippen Museum of Western Art with FREE ADMISSION to the center and its multiple galleries.  Lunch was available on-site thanks to the Boy Scouts of Prescott's Troop 7010.
The SYMPOSIUM included a variety of interesting, informative and new perspectives on Western History presented by multiple renowned authors and historians as indicated by topics below.  To view additional snapshots and a short background of each of the FREE LECTURES, click on the links below.
AND SAVE-THE-DATE FOR THE 2024 WESTERN HISTORY SYMPOSIUM SCHEDULED FOR SATURDAY, AUGUST 3, 2024.
The Legend of the Palace Bar during the Great Fire -- by Brad Courtney & Early Driving Machines Enthrall Prescott -- by Drew Desmond
Speakers: Brad Courtney and Drew Desmond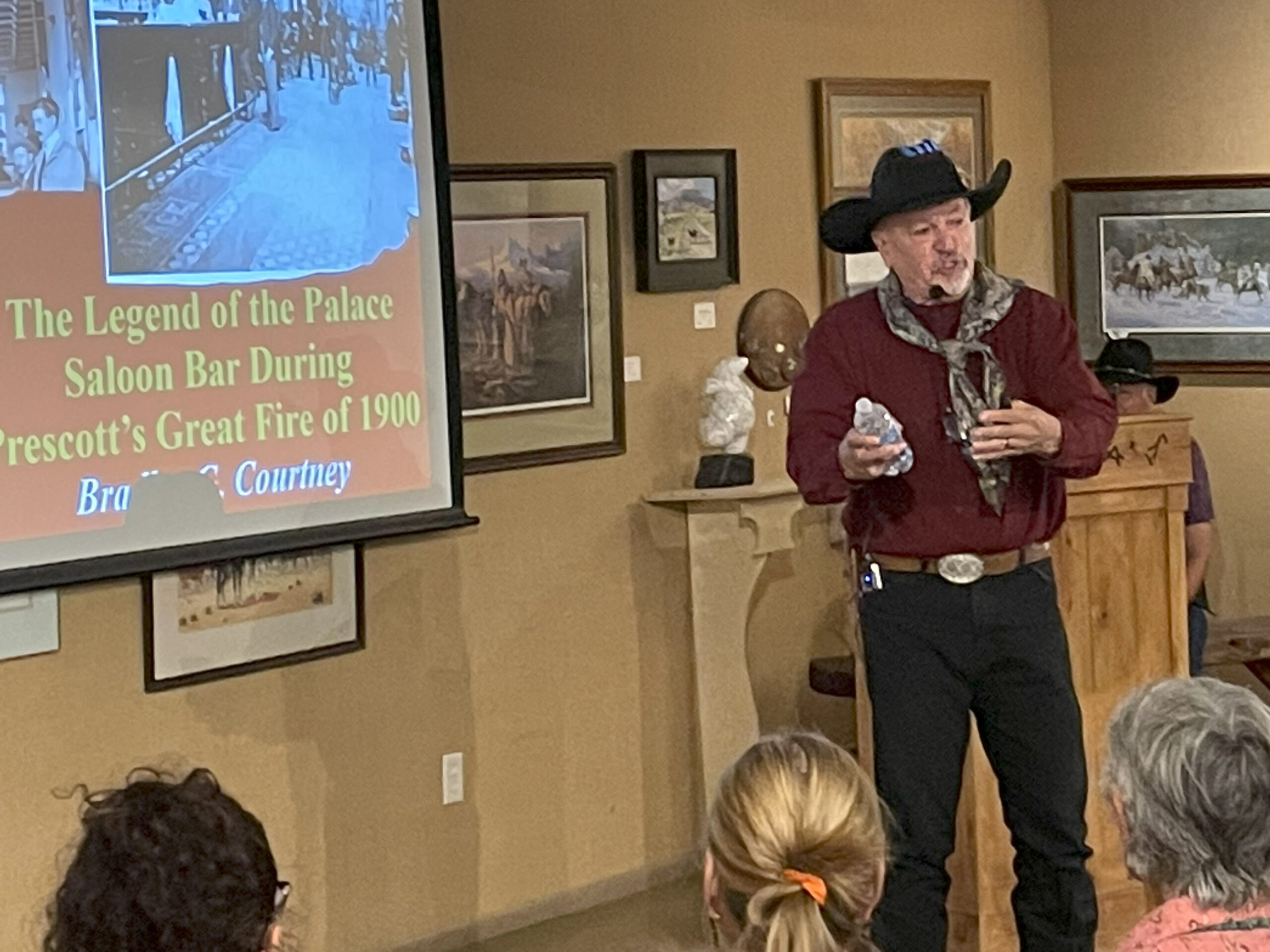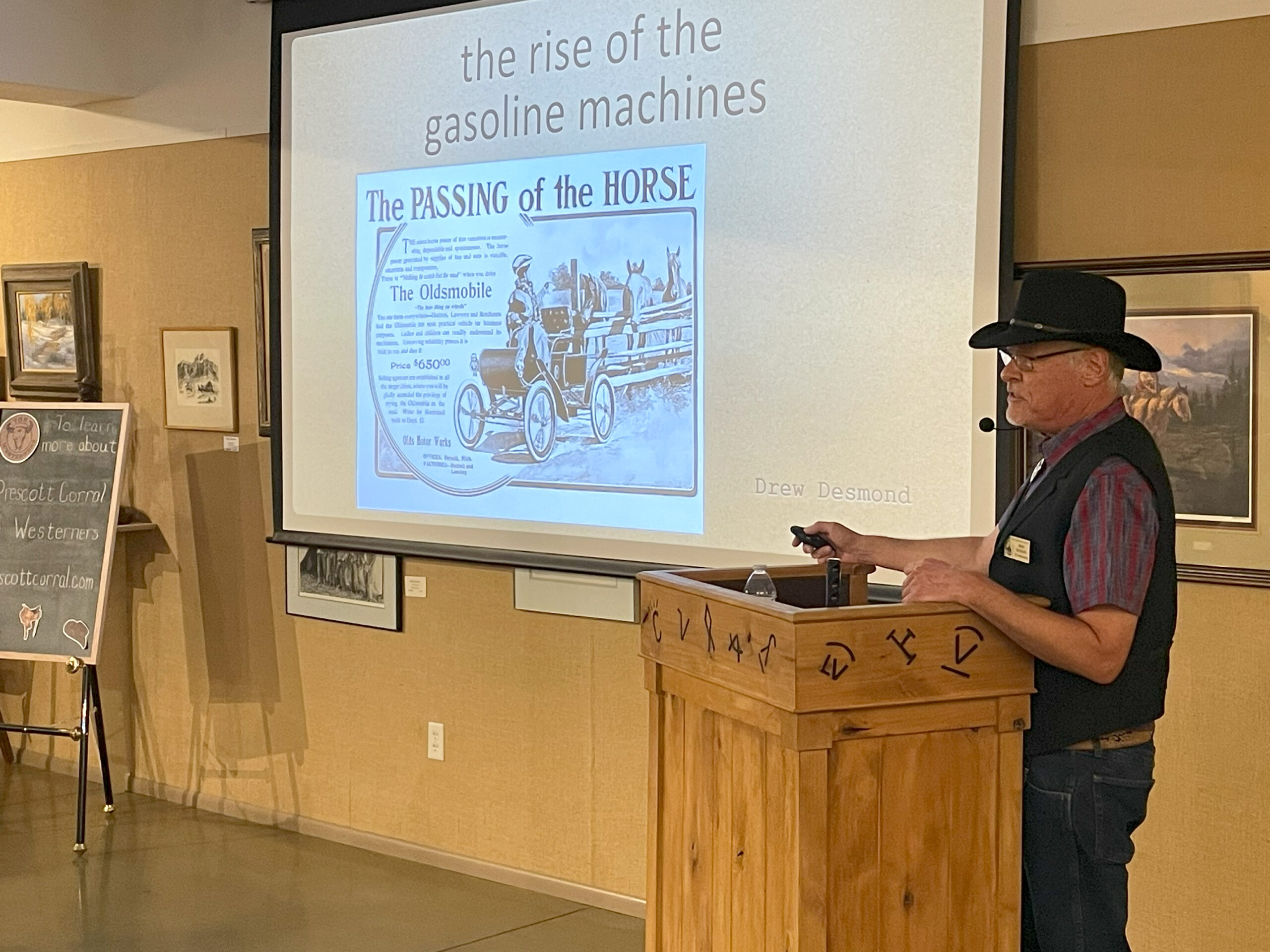 Brad Courtney (left) spoke about the Legend of the Palace Saloon bar being pulled out to the Plaza during Prescott's Great Fire of 1900. It has been a favorite story to many for decades but is it true? Come hear what his research has revealed.
Drew Desmond (right) spoke on the celebrated early histories of automobiles and motorcycles in Prescott, and the adjustments that had to be made for these world-changing new technologies.
Bradley G. Courtney – The author of four books on the history of Prescott's famous Whiskey Row, is an independent historian who lived and taught in Phoenix for nineteen years, and on the Navajo Indian Reservation for twelve years. For six years, Brad was a riverboat pilot who gave tours down the incomparable canyons of the Colorado River. He holds a master's degree in history from California State University
Drew Desmond – Founded the #PrescottAZHistory blog and spends over 1000 hours a year reading old newspapers, periodicals and books to provide the research necessary for his weekly articles. He is the administrator of the popular "Celebrating Historic Prescott" Facebook group. Drew's #PrescottAZHistory Twitter account is followed by many local institutions, including businesses, reporters, politicians, and even towns. Drew is Vice-President of the Western Heritage Center in Prescott 
Awesome Arizona -- 200 Amazing Facts About the Grand Canyon State -- by Roger Naylor
Speaker: Roger Naylor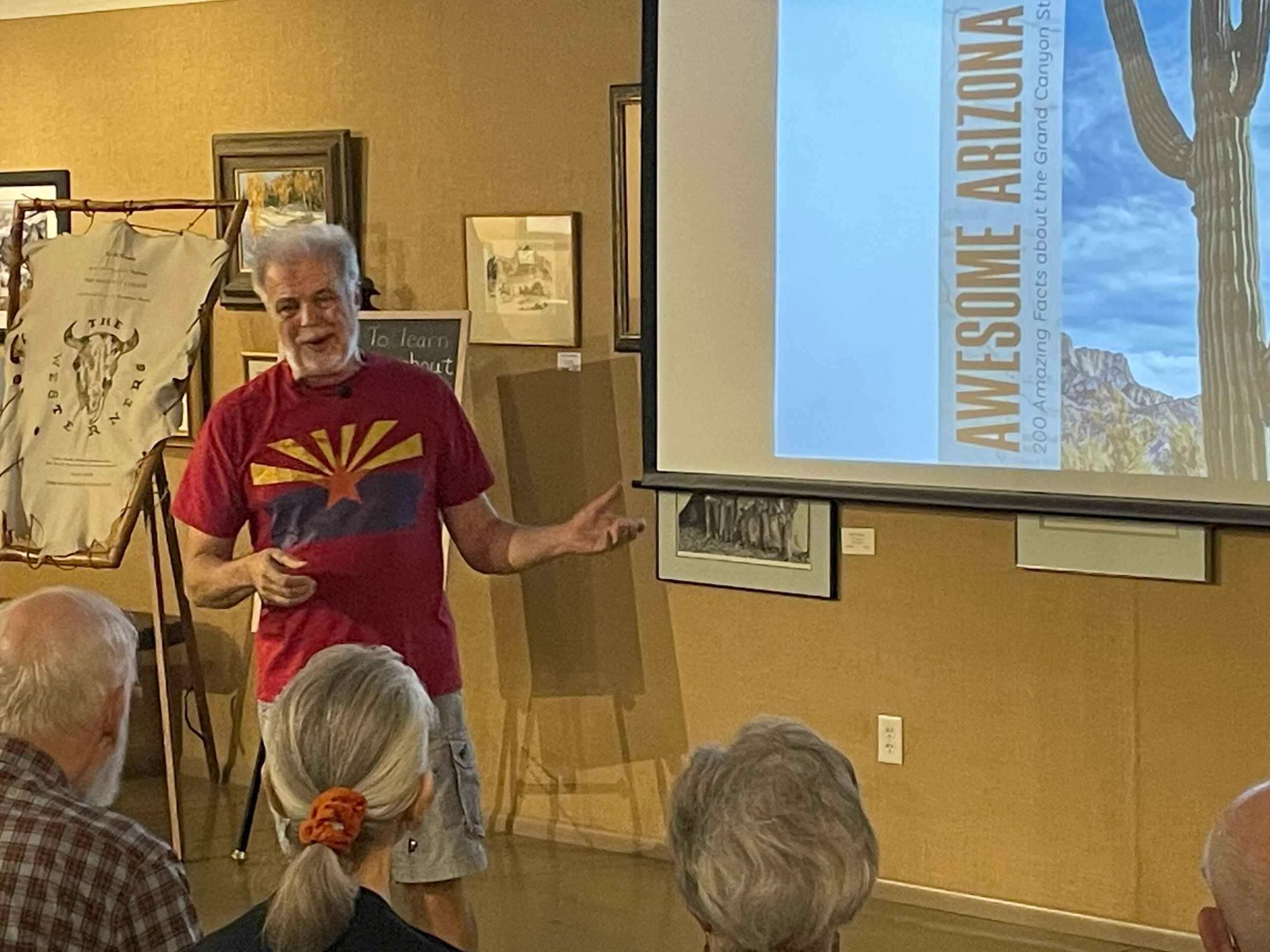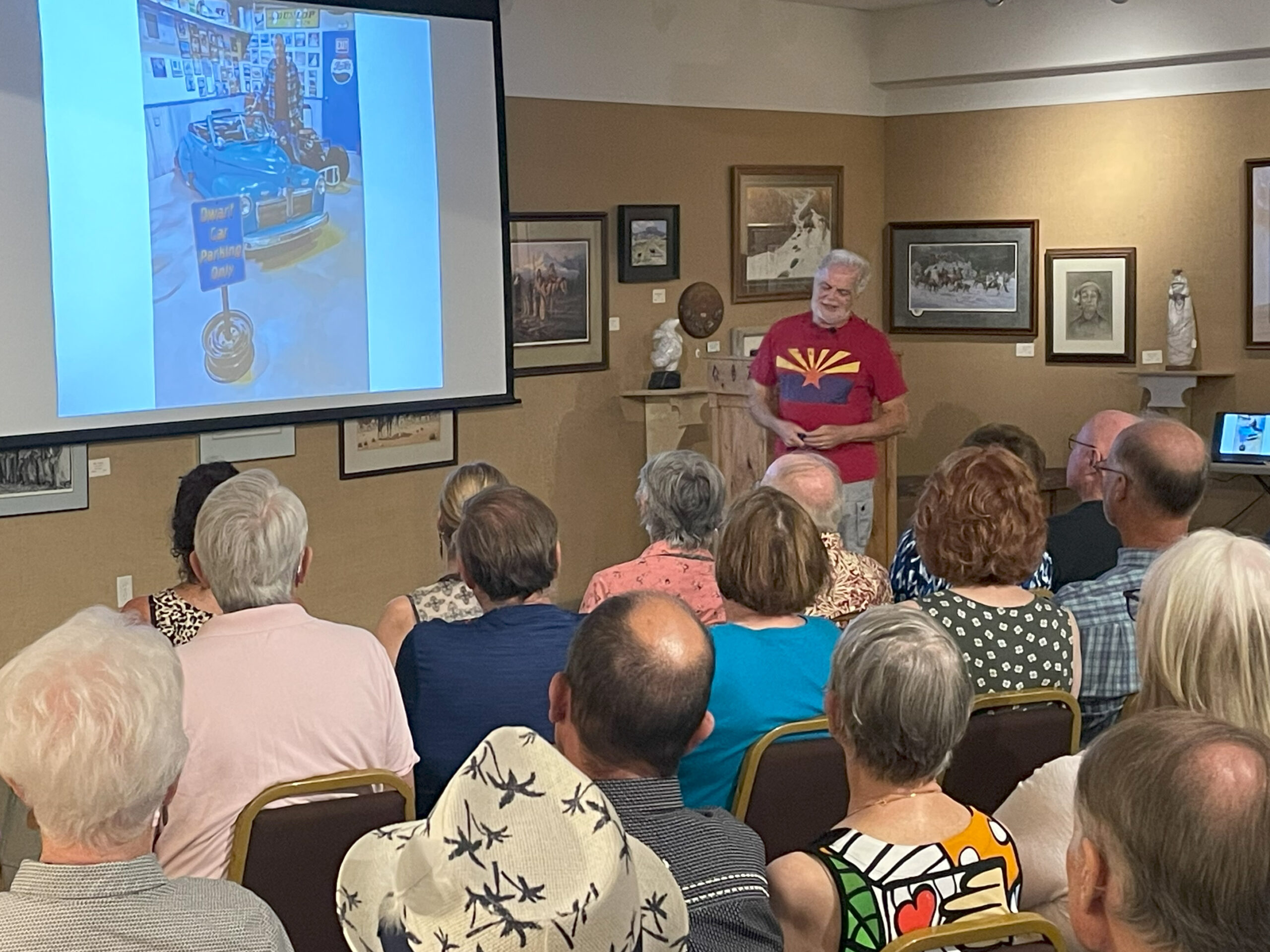 Arizona is rugged and gorgeous, historic and weird, funny and utterly magnificent.  It's full of surprises, not what most people expect at all.  And with this book entitled Awesome Arizona, Roger Naylor piles up the evidence amassing 200 amazing facts and fascinating commentary about his beloved state.  He captures the essence of Arizona from its wild and wooly past to its breathtaking scenery, to its startling geology, to its incredible diversity of cultures and terrain, and more.
Roger Naylor – Is Arizona's premier travel writer and a member of the Arizona Tourism Hall of Fame. His two previous books, "Arizona Scenic Roads and Hikes" and "Arizona State Parks" were both chosen as the best Arizona Travel Books by the New Mexico-Arizona Book Awards in 2020 and 2021. His works appear most weeks in the Arizona Republic and he is the author of several books about Arizona.
Jean Mann, Navajo Weaver -- by Lolita Mann Paddock
Speaker: Lolita Mann Paddock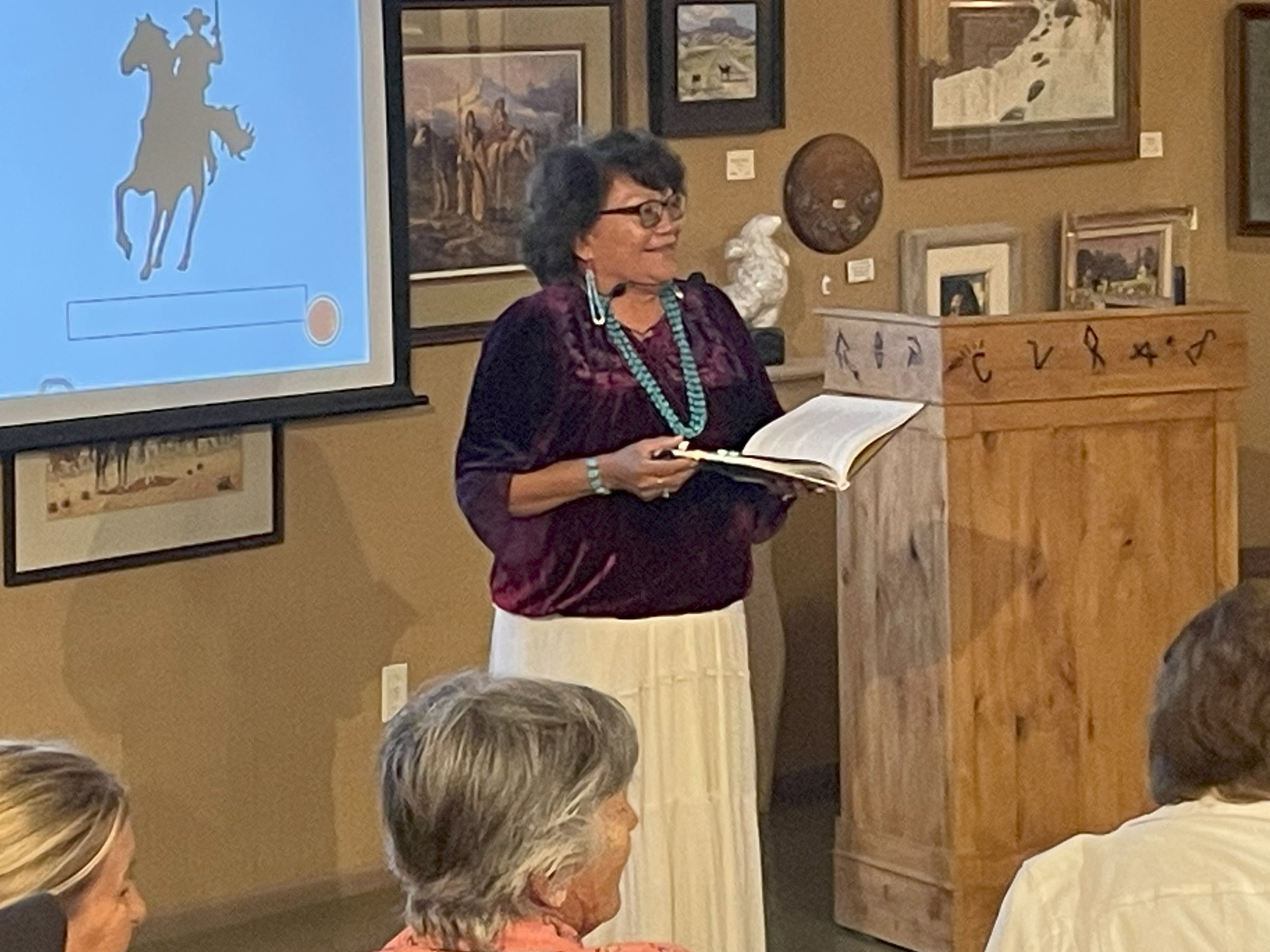 Lolita Mann Paddock talks about the life of her mother, Jean Mann, a well-known Navajo weaver who demonstrated the arts of weaving at the Grand Canyon for many years.
Lolita Mann Paddock – Grew up in the Navajo Reservation town of Cameron, Arizona. She has been a teacher and administrator throughout her professional career and is currently the principal of Leupp School.
A Repeat Photo Reveal -- The San Francisco Peaks, Through the Lens of Time -- by John Vankat
Speaker: John Vankat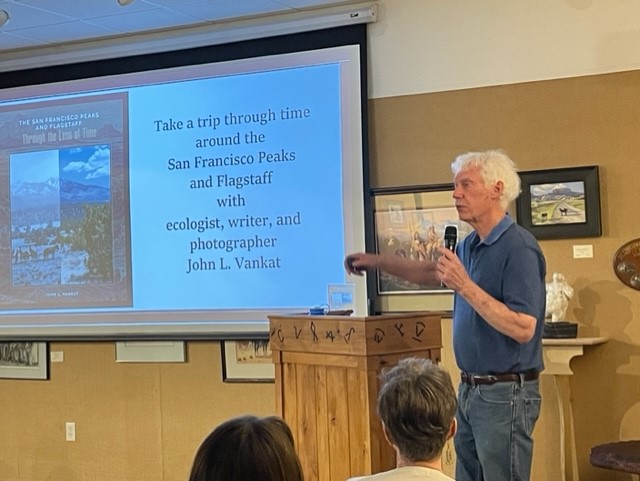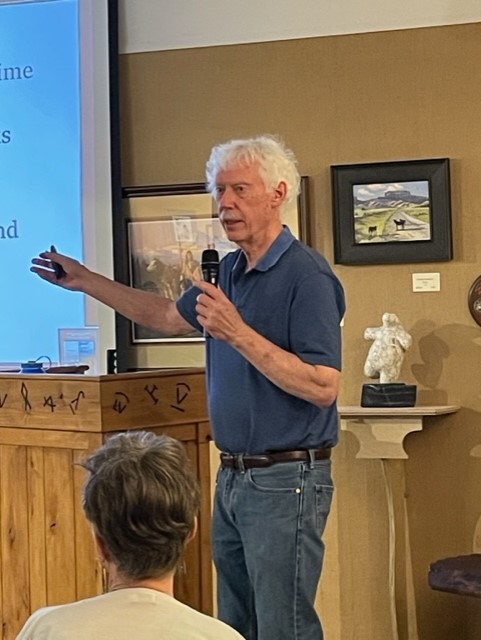 The result of a seven-year project, this presentation examined historical and ecological changes since the first photographs were taken in the region in 1867. These "Precise Repeats" of historical photographs revealed the many changes and provided a visual essay as more than 150 years unfold in photographs and drawings precisely paired with their modern-day counterparts.
John Vankat, professor emeritus of Miami University (Oxford, Ohio), is a scientist first – a plant ecologist to be precise.  His botanical specialty examines how plant life has changed over times in the mountains and plateaus of the American Southwest. Along the way, he began compiling visual evidence (photos and drawings, new and old) and taking precise comparative photographs that satisfy the curiosity of those who wonder what the land was like before pioneer settlement.
The Battle of Skull Valley -- by Fred Veil
Speaker: Fred Veil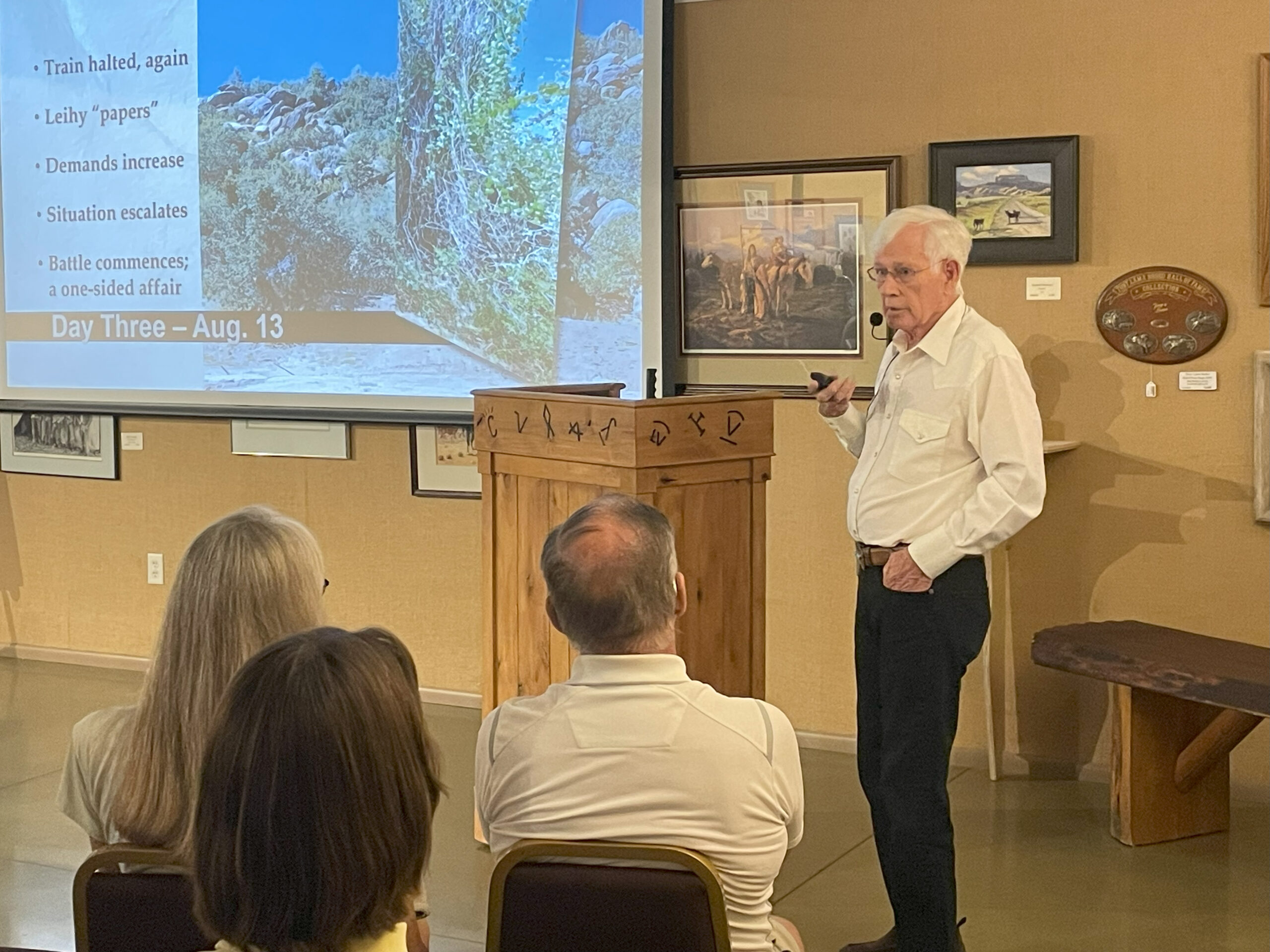 "The Battle of Skull Valley" — So rang a headline of the August 22, 1866 Arizona Miner, introducing the account of Lt. Oscar Hutton, commanding Company F of the First Arizona Volunteers, regarding the military engagement with a band of Indians that had stopped a wagon train en route from La Paz to Prescott. Come hear the rest of the story when Fred Veil reveals the details about this battle close to Prescott.
Fred Veil – Retired from the Sharlot Hall Museum in 2021 following seven years of service as the Museum's Executive Director. Fred has resided in Prescott for 23 years, having moved here following a 30 year career as a legal and human resources executive. He founded the Western History Symposium in 2004 and coordinated its programming for 18 years. Fred's previous public works include articles in the Duquesne Law Review, the Journal of Arizona History and the Territorial Times, and a book on baseball in the Dead Ball Era. His papers on his great-granduncle, an early Arizona soldier and pioneer and an 1874 murder trial won the Don Bufkin Awards for the Best Territorial Period Papers at the 2008 and 2009 Arizona History Convention, respectively. Fred's service to the Sharlot Hall Museum was recognized when, upon his retirement, the Museum's Board of Trustees named its new Education Center in his honor.
Previous Western History Symposium Programs
Last Year's Western History Symposium – Aug. 13, 2022
Four scintillating FREE LECTURES provided a variety of interesting, informative, and new perspectives on Western History presented at the Phippen Museum of Western Art.   HERE'S WHAT WAS PRESENTED…
An Itinerant Peddler of the 1870s -- Who was Don Maguire?
9:30 a.m. Speaker: Nancy Burgess                                              
Atop a five-story-high pile of granite boulders slightly west of Prescott, something's been etched into the stone… the inscription reads "Don Maguire 1879."  For many decades those few who had seen the scribed words asked, "Who was Don Maguire?"  He was an itinerant merchant who wrote original narratives of his adventures — entertaining and colorful contributions to the story of America's Wild, Wild West.
---
Nancy Burgess is author of multiple historic preservation books including Around Yavapai Count: Celebrating Arizona's Centennial; A Photographic Tour of 1916 Prescott, Arizona; and An Illustrated History of Mayer, Arizona.  She is a historic consultant with a focus on nominations to the National Register of Historic Places for communities in central Arizona, including Prescott, Sedona and several rural communities.  For 20 years she was an historic preservation specialist for the City of Prescott and a long-time volunteer and former board member of the Sharlot Hall Museum. 
Adventures in Photography: The Amazing Kolb Brothers of the Grand Canyon
10:30 a.m. Speaker: Roger Naylor                                              
Starting in 1901, brothers Ellsworth and Emery Kolb explored and photographed the Grand Canyon from rim to river for more than seven decades. Their tale is as epic as their backdrop. The Kolb Brothers were doing more than documenting history; they were making history!  Discover that history in this photographic travelogue and learn their amazing story.
---
Roger Naylor is has been the freelance travel writer for the Arizona Republic for more than 15 years and writes for he official Arizona Visitor Guide. In 2018 he was inducted into the Arizona Tourism Hall of Fame. His work has appeared in USA Today, Arizona Highways and Country Magazine. 
Whiskey Row's Baby-on-the-Bar Saga: Violet Bell and the Cobweb Hall Saloon
1:00 p.m. Speaker: Brad Courtney                                              
Legend has it, a baby was left on the bar.  It's a touching saga that dates back to January 17, 1896, that has been shared for decades along Whiskey Row …a story that has been romanticized and embellished that speaks of a baby who was "won" in a gambling game after being abandoned atop a bar counter of a prominent Prescott saloon. It's been a tale featured in newspapers, magazines, books and poetry — perhaps one of Arizona's most famous saloon stories virtually accepted as truth.  Recent research reveals it's based on the fascinating and true story of Violet "Baby Bell" Hicks, but is there any truth to the romanticized legend?
---
Bradley G. Courtney is the popular author of Prescott's Original Whiskey Row and co-author of Murder and Mayhem in Prescott. He's also co-author of the upcoming True Tales of Prescott with Drew Desmond.  Brad is an independent historian who lives in Prescott, has taught in Phoenix and on the Navajo Indian Reservation in northern Arizona, and was also a riverboat pilot and guide who gave tours down the incomparable canyons of the Colorado River. He holds a masters degree in history from California State University.,
The Courageous Arizona Journalist that History Tried to Erase: Laura Nihell of Jerome
2:00 p.m. Speaker: Jana Bommersbach                                                                           
"She dared do WHAT?" — Nobody knows her name nor the courageous things this pioneer newspaper journalist did. That is a mistake. She wasn't just over-looked, like so many women in history. No, they erased her. Buried her deep with no gravestone. They wanted to be sure nobody ever knew what she'd done, or why, or how she'd bested some prominent honchos in the mining town of Jerome in the early 1900s.  But the story of Laura Nihell is an exciting, rip-roaring tale.
---
Jana Bommersbach moved to Arizona in 1972 (from North Dakota) and has been an acclaimed and respected journalist for decades. Her body of work has encompassed nearly every aspect of the profession, and she is an Emmy award winner for her centennial special, Outrageous Arizona, as well as four writing awards from the Arizona Press Club.  She was inducted into the Arizona Women's Hall of Fame as an "Outstanding Media Leader." She has authored nine books and has been with True West Magazine since 2002.